The Watling Street Society
Dedicated to the study of the past, present and future of Watling Street
Watling Street is the Roman road which runs from Richborough and Dover in Kent to
Wroxeter in Shropshire, and on to Leintwardine and Kenchester in Herefordshire.
Most of Watling Street follows the route now covered by the modern A2 and A5
roads.

The Watling Street Society shall devote itself to the study of all
subjects of relevance to the past, present and future of Watling Street and the
communities she serves from Kent to Salop and
Herefs.
Notice of Inaugural Publication of the Watling Street Society to mark the 350th anniversary of the discovery by John Ray of Eryngium campestre (aka the Watling Street Thistle) growing in Britain-:

*CONTENTS TO BE ANNOUNCED*

On July the 7th 1662, the naturalist John Ray found Eryngium campestre growing at Western Kings Point near Plymouth, Devon. This was the first record of Field EryngoEryngium campestre (Eryngium vulgare) in Britain. Later, the Field Eryngo was to be found at various sites on Watling Street, and became known colloquially as the Watling Street Thistle. The Watling Street Thistle is an endangered species in Britain today, but can still be found in Kent not far from the southernmost section of Watling Street. She also survives to this day in the spot where John Ray found her at Western Kings Point in Devon.

The Watling Street Society's inaugural publication shall feature essays by, and interviews with,
AUTHORITIES IN THE FIELDS OF JOHN RAY AND Eryngium campestre, and is expected to be ready for distribution in the Spring of 2017. Please contact Barnaby Probert at 25 Hawthorne Close, Islington, London, for more information.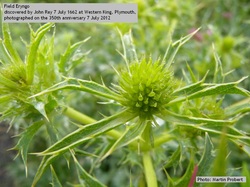 Field Eryngo (aka Watling Street Thistle) photographed on the 7th of July 2012 at the site where John Ray recorded it on the 7th of July 1662.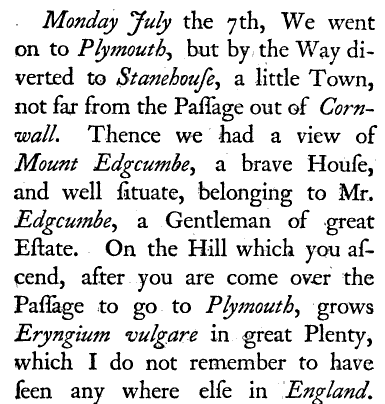 from page 293 of 'Select Remains of the learned John Ray, M.A. and F.R.S.: With his life, by the late William Derham' published by George Scott, London, MDCCLX
For further information, please contact Barnaby Probert:
Address: 25 Hawthorne Close, Islington, London N1 4AW
​Tel: 00442072549176
Email:
enquiries@watlingstreetsociety.org